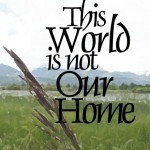 Have you ever taken a long journey, like a road trip? Have you ever known the feeling of wanting to return home? It is a long standing Christian metaphor, that this world is not our home. We're just journeying through it. Someone has said that God has set eternity in our hearts and that we long for things that are eternal. We long for what is good, righteous and holy. Deep inside, we want to be done with a body that decays, with a world that is full of sin, diseases, death, wars, poverty and selfishness. Perhaps that is why I find so much conflict within myself. My flesh desires to do what is wrong because I have been sinful since birth, but there is something deep inside that is saddened, that is broken-hearted, because I long for what is right, true, pure, perfect, peaceful… I long for a world that is home, the way that God intended it.
I know right now that we exist in a world where there is much that has gone wrong. There is poverty, starvation, rape, murder, war, disaster and disease that is ripping through the entire world pulling it apart, atom by atom. This world will never be as it was originally made—as it was intended. Because it is condemned, condemned to be swallowed up in death. It with all its' inhabitants, condemned to be alone forever—separated from God, the One whom they were designed to have fellowship with. We are condemned to eternal separation, a more painful suffocation then being without oxygen, a slower drowning then gasping for breath in between the gulps of water—a more horrifying death then being tortured.
But God, who is rich in mercies and grace, has provided someone to die in our place, to take our condemnation. His name is Jesus Christ. He is the promised Messiah, the Son of the Living God. He took our sinfulness, our disease of death upon Himself and though He was perfect, He suffered death, He suffered separation from God.
Yet even in this great sacrifice, He was not defeated, instead, He defeated death and the consequences of sin—He came back to life—He reversed the process of decay and death. So we must look to Him—and walk by faith knowing that one day we will be raised with new bodies and come back to life as well. You and I should focus on what is unseen, the eternal promises of God rather than on what is seen, our temporal problems and pleasures.
By faith Noah, when warned about things not yet seen, in holy fear built an ark to save his family. By his faith he condemned the world and became heir of the righteousness that comes by faith. By faith Abraham, when called to go to a place he would later receive as his inheritance, obeyed and went, even though he did not know where he was going. By faith he made his home in the promised land like a stranger in a foreign country; he lived in tents, as did Isaac and Jacob, who were heirs with him of the same promise. (Hebrews 11:7-9)
One day we will get to live with God forever. We will get to live on a new earth, one that is perfect, that is not marred with the problems of the world today. There will be no more wars, instead there will be peace. There will be no more rape, instead there will be true love and respect for everyone. There will be no more disease or defects—instead there will be perfection through creative diversity in all mankind. There will be no more hatred towards our fellow brothers; instead there will be love for God and therefore a love for all His creation.
There will be no more sorrows, for Jesus Himself will have wiped the last tear from the last saint's eye away. There will be no more sickness, there will be health. There will be no more danger, no more darkness, no more fear. God Himself will dwell among men in the eternal city that He is building for those of us who walk by faith. You and I should focus on what is unseen, the eternal promises of God rather than on what is seen, our temporal problems and pleasures.
For he was looking forward to the city with foundations, whose architect and builder is God. By faith Abraham, even though he was past age—and Sarah herself was barren—was enabled to become a father because he considered him faithful who had made the promise. And so from this one man, and he as good as dead, came descendants as numerous as the stars in the sky and as countless as the sand on the seashore. All these people were still living by faith when they died. They did not receive the things promised; they only saw them and welcomed them from a distance. And they admitted that they were aliens and strangers on earth. People who say such things show that they are looking for a country of their own. If they had been thinking of the country they had left, they would have had opportunity to return. Instead, they were longing for a better country—a heavenly one. Therefore God is not ashamed to be called their God, for he has prepared a city for them. (Hebrews 11:10-16)
Did you catch that? A new city that cannot be shaken. A city which has streets made of gold. A city who's architect is God Himself, artistic, designed to be beautiful and functional. A country who's landscaper is God, more beautiful then the most awe inspiring moments in this world. A city who's builder is God—a city that is stronger and will last longer then any of the ancient cities or kingdoms. However, if you're like me, this thought does not cross your mind on a daily basis. You're thinking about the here and now. Why a certain family member doesn't seem to want to understand you. Why you're having the worst day of travel between airports and buses of your life. Why at such a young age you have such a disabling handicap. You're wondering why your mother is dying of cancer. You're wondering when you'll get a job. These are the sorts of things that cross my mind more often then not.
Therefore we do not lose heart. Though outwardly we are wasting away, yet inwardly we are being renewed day by day. For our light and momentary troubles are achieving for us an eternal glory that far outweighs them all. So we fix our eyes not on what is seen, but on what is unseen. For what is seen is temporary, but what is unseen is eternal. (2 Corinthians 4:16-18)