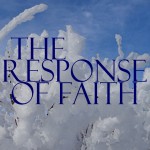 Jesus looked at them and said, "With man this is impossible, but with God all things are possible." (Matthew 19:26)
When you give a gift you to someone else, it really is neat to see their reaction–especially if you put a lot of thought and effort into the gift itself, the presentation or the timing of when you gave the gift.  When I won't be home for Christmas, I try to video-chat with my family back home so that they can see me open their gifts and I can see them open mine–because I want to see their reaction to my Christmas present to them.  I wonder if God feels the same way when someone is hearing of Jesus.  He watches their face as they hear about who Jesus is and what He has done for them.  Then just like on Christmas morning and you realize just all the nifty things your gift can actually do–God waits to see the smile on that person's face when they realize their sins can be forgiven through Jesus.  You know, the Bible is chalked full of stories about people who heard about God's gift to them for the first time.
In the time of Herod king of Judea there was a priest named Zechariah, who belonged to the priestly division of Abijah; his wife Elizabeth was also a descendant of Aaron. Both of them were upright in the sight of God, observing all the Lord's commandments and regulations blamelessly. But they had no children, because Elizabeth was barren; and they were both well along in years.  Once when Zechariah's division was on duty and he was serving as priest before God, he was chosen by lot, according to the custom of the priesthood, to go into the temple of the Lord and burn incense. And when the time for the burning of incense came, all the assembled worshipers were praying outside.  Then an angel of the Lord appeared to him, standing at the right side of the altar of incense. When Zechariah saw him, he was startled and was gripped with fear. But the angel said to him: "Do not be afraid, Zechariah; your prayer has been heard. Your wife Elizabeth will bear you a son, and you are to give him the name John. He will be a joy and delight to you, and many will rejoice because of his birth, for he will be great in the sight of the Lord. He is never to take wine or other fermented drink, and he will be filled with the Holy Spirit even from birth. Many of the people of Israel will he bring back to the Lord their God. And he will go on before the Lord, in the spirit and power of Elijah, to turn the hearts of the fathers to their children and the disobedient to the wisdom of the righteous—to make ready a people prepared for the Lord."  Zechariah asked the angel, "How can I be sure of this? I am an old man and my wife is well along in years."  The angel answered, "I am Gabriel. I stand in the presence of God, and I have been sent to speak to you and to tell you this good news. And now you will be silent and not able to speak until the day this happens, because you did not believe my words, which will come true at their proper time."  Meanwhile, the people were waiting for Zechariah and wondering why he stayed so long in the temple. When he came out, he could not speak to them. They realized he had seen a vision in the temple, for he kept making signs to them but remained unable to speak.(Luke 1:5-22) 
I mean the news about a baby is typically some pretty exciting news, right?  I have a bunch of friends who have recently just had babies of their own and I have a bunch of friends who are expecting soon.  They always can't wait to tell their families and their friends that they are expecting a baby.  You don't have to be told to be excited with someone else when they share good news with you, right?  You typically are excited for them without even trying.
Zechariah is just being faithful to God.  He's doing his priestly duties in the temple.  Then "POW", an angel from God shows up with some pretty exciting news.  "Zechariah, you've been wanting a son–well you are about to have a son!"  This is GOOD news, Zechariah, you're gonna have a child–a son–a baby!!  Zechariah is like "wait, wait, wait…how do I know this is true?"  How come we often are skeptical of good fortune coming our way?  Is it because  we think good things always seem to happen to someone else?  Do we doubt God's desire for good things to happen in our lives?  Have we become so accustom to bad news that we forget what good news sounds like?
In the sixth month, God sent the angel Gabriel to Nazareth, a town in Galilee, to a virgin pledged to be married to a man named Joseph, a descendant of David. The virgin's name was Mary. The angel went to her and said, "Greetings, you who are highly favored! The Lord is with you." Mary was greatly troubled at his words and wondered what kind of greeting this might be. But the angel said to her, "Do not be afraid, Mary, you have found favor with God. You will be with child and give birth to a son, and you are to give him the name Jesus. He will be great and will be called the Son of the Most High. The Lord God will give him the throne of his father David, and he will reign over the house of Jacob forever; his kingdom will never end."  "How will this be," Mary asked the angel, "since I am a virgin?" The angel answered, "The Holy Spirit will come upon you, and the power of the Most High will overshadow you. So the holy one to be born will be called the Son of God. Even Elizabeth your relative is going to have a child in her old age, and she who was said to be barren is in her sixth month. For nothing is impossible with God." "I am the Lord's servant," Mary answered. "May it be to me as you have said." Then the angel left her. (Luke 1:26-38)
Zechariah and Mary both have similar experiences with angels bringing them news about a miraculous baby.  Their responses seem so similar to the casual reader.  Yet we can tell based on the Angel's response that their hearts were in totally different places.  Think about it.  Zechariah was wanting a baby.  He was an older man.  He had been married a long time.  The news of a baby should have made him skip and hop like a joy-filled small child.  On the other hand, Mary was only pledged to be married, she was looking forward to being married news of a baby was not even remotely upon her mind of.  In fact news of a baby would have been awful news to her–it would have meant disgrace and meant her fiance probably wouldn't want to go through with the wedding.  It's therefore interesting to note that Zechariah states, "How can I know this is true?"  This suggests doubt on Zechariah's part.  He doesn't believe it's actually possible.  On the other hand, Mary says, "How can this be?" Which might be more of a state of awe, curiosity and wonder at how God might actually accomplish what He has promised to do.  Zechariah responses to the message from the angel in doubt and disbelief.  Mary responds in wonder and awe.  To the casual reader the two statements might be indistinguishable–but a deeper reading suggests the exact opposite.  It also leads me to conclude that God responds to the heart of the individual and that He does not treat us all equal.  Zechariah was an older man and a priest.  He should have remembered that this same thing had happened to Abraham.  Zechariah had walked with God for a long time.  In some ways, he should have known better.  Mary was young.  She was probably more surprised to have a visit by an angel than Zechariah.  Yet she responds in faith accepting what the angel has said.
To respond in faith towards God is to disregard feeling, reason, doubt & fear to follow Him wherever He might lead without question because of trust.  We need to respond to God in faith and not doubt–accepting the good and perfect gifts that He bestows upon us.  When we hear of His good news our faces should light up with joy and gladness that only He can bring.  There is nothing greater than to receive news from God almighty.  There is no great gift this Christmas season then the gift from God.  How have you responded to the news of that gift?  Have you allowed yourself to be filled with doubt, unbelief and discouragement not willing to allow the joy of a Savior to fill your heart with new life, joy, peace and faith?  Be like Mary and allow God to fill your heart anew with joy, peace and faith–simply being in awe of what He has done and is doing.