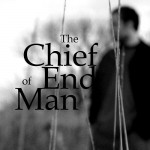 The chief end of man is to be in a reconciled relationship with God and live his life to please God.
Reconcile – make peace, resign to, conform, agree, adjust, adapt…etc.
To reestablish a close relationship between.
To settle or resolve.
To bring (oneself) to accept: He finally reconciled himself to the change in management.
To make compatible or consistent: reconcile my way of thinking with yours.
When we dig down we find that God truly wants a relationship with us.  That is why Jesus came down to this dust ball called earth and died.  God came to earth so that we could be in a reconciled relationship with Him.
14For Christ's love compels us, because we are convinced that one died for all, and therefore all died. 15And he died for all, that those who live should no longer live for themselves but for him who died for them and was raised again. 16So from now on we regard no one from a worldly point of view. Though we once regarded Christ in this way, we do so no longer. 17Therefore, if anyone is in Christ, he is a new creation; the old has gone, the new has come! 18All this is from God, who reconciled us to himself through Christ and gave us the ministry of reconciliation: 19that God was reconciling the world to himself in Christ, not counting men's sins against them. And he has committed to us the message of reconciliation. 20We are therefore Christ's ambassadors, as though God were making his appeal through us. We implore you on Christ's behalf: Be reconciled to God. 21God made him who had no sin to be sin for us, so that in him we might become the righteousness of God. (2 Corinthians 5:14-21)
So what does it mean to live in a reconciled relationship with God?
3We know that we have come to know him if we obey his commands. 4The man who says, "I know him," but does not do what he commands is a liar, and the truth is not in him. (1 John 2:3-4)
36"Teacher, which is the greatest commandment in the Law?" 37Jesus replied: " 'Love the Lord your God with all your heart and with all your soul and with all your mind.' 38This is the first and greatest commandment. 39And the second is like it: 'Love your neighbor as yourself.' 40All the Law and the Prophets hang on these two commandments." (Matthew 22:36-40)
20If anyone says, "I love God," yet hates his brother, he is a liar. For anyone who does not love his brother, whom he has seen, cannot love God, whom he has not seen. 21And he has given us this command: Whoever loves God must also love his brother. (1 John 4:20-21)
1We who are strong ought to bear with the failings of the weak and not to please ourselves. 2Each of us should please his neighbor for his good, to build him up. 3For even Christ did not please himself but, as it is written: "The insults of those who insult you have fallen on me." (Romans 15:1-3)
23"Everything is permissible"—but not everything is beneficial. "Everything is permissible"—but not everything is constructive. 24Nobody should seek his own good, but the good of others. (1 Corinthians 10:23-24)
Therefore the essential ingrediant to being in a reconciled relationship with God is to please and know Him.  In order to do that we must keep His commands.  He commands us to love Him and we show that we love Him by loving one another.  Therefore we can please God and keep our relationship with Him strong by loving other people and reconciling our relationships with them.