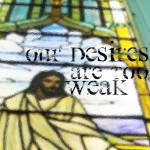 Do you feel that church is boring?
Would you rather be in any place other then God's house on a Sunday morning?
I know how you feel. I've felt that way too. But that was before I entered into a personal relationship with Jesus.
Now I love to be in God's house. Now, I want to learn how to be more like Him. I want to make Him happy and to use my talents and gifts for His purposes. I want to use up my best energies on things that I can do for Him. I want the things that break His heart to break my heart; I want the things that make Him pleased to cause me to be filled with joy.
However, most people in we find in church do not feel this way. It seems most of us are so fond of our small pleasures in life that we have developed stomachs that would rather munch on cheap candies even though we are offered the chance to eat at a rich and elegant gourmet feast. If you find yourself sitting in church thinking about the football game you'd like to be watching, or wondering when Bible study will be over so that you can watch that new movie you want to see or if while praying with a group of Believers you find yourself hoping you'll be done in time to talk on the phone with your girlfriend, you might have come to church for the wrong reasons.
You read that right. You might be going to church for the wrong reasons.
If you're going because your parents told you to go, you're going for the wrong reason. If you're coming because it's tradition, you're coming for the wrong reason. If you're going because it's the "right" thing to do, you're going for the wrong reason.
If you're in church because you want to grow closer to God, you're there for the right reason. If you're in Church because you want to be more Christ-like, you're there for the right reason. If you're in church because you want to worship God, praise Him and tell others what He's done in your life this past week, you're there for the right reason.
But so often, we would rather be somewhere else besides in church—somewhere other than in God's house.
"It would seem that Our Lord finds our desires not too strong, but too weak. We are half-hearted creatures, fooling about with drink and sex and ambition when infinite joy is offered us, like an ignorant child who wants to go on making mud pies in a slum because he cannot imagine what is meant by the offer of a holiday at the sea. We are far too easily pleased." C.S. Lewis
You see, God isn't looking for you to just fulfill a duty or to somehow pay Him back for what He's done for you. He isn't looking for ornate or elaborate expressions of worship. When we talk to Him, we don't have to use certain words. The worship He's looking for is true worship. The kind of worship that is authentic. The kind of worship that is gritty and real. The kind of worship that is genuine and true to the worshiper.
That's how Jesus put it when He was having a conversation with a woman He was sitting at a common well. Soon into their talk, Jesus cuts right to the core issue: the woman's sin. He does this because sin has to be dealt with prior to God being able to have a relationship with someone. He gets personal with her real quick. He asks about her husband and she says she's not married to which Jesus replies that she's been married five times and the guy she's with living with right now isn't her husband. Wow, Jesus doesn't waste any time making small talk.
I was recently talking to a friend of mine. She said she was having a tough time being excited about going to church and reading her Bible. She asked me what I thought the problem was. I answered with one word, "sin." More often then not, when excitement and joy are gone for the things of Jesus, my problem is sin that has not been dealt with in my life.
This lady Jesus is talking with quickly changes the subject and starts to talk about who was right her people or the Jews for worshiping on the mountain versus worshiping in the temple. Which was better? Where should she worship? Jesus doesn't bother to answer her question and instead cuts to the heart of the issue.
"Believe me, woman, a time is coming when you will worship the Father neither on this mountain nor in Jerusalem. You Samaritans worship what you do not know; we worship what we do know, for salvation is from the Jews. Yet a time is coming and has now come when the true worshipers will worship the Father in spirit and truth, for they are the kind of worshipers the Father seeks. God is spirit, and his worshipers must worship in spirit and in truth." (John 4:21-24)
The woman states that there is a time will come when the Messiah will come and will explain all these things. Jesus replies, "I who speak to you am he." Jesus is stating, "I am the Messiah, the One sent from God and I'm sitting right in front of you."
Jesus has come. He is the Messiah and He is here. He's announcing that worship isn't about where you are, but about where your heart is. Worship isn't about what Church you belong to, or how the elements of the service or some small thing the Pastor does or says that upsets you, it's about whether or not you have a personal relationship with God.
If we would only admit that we've mistaken the means (going to Church) for the end (having a relationship with God) and have a good laugh at ourselves we could begin all over again (repentance) like little children and enter into joy. But often we refuse to do that. How sad that we care nothing about joy. We don't care about having a relationship with the Creator of the Universe. We don't care about having a personal relationship with the redeemer of our souls, Jesus Christ, the Son of God.
Jesus is here. He longs to talk to you in prayer. He can't wait for you to read His Word to you. He can't wait to fellowship with you today, tomorrow and the next day. He welcomes you into His house this weekend, will you be exited to come and worship Him?