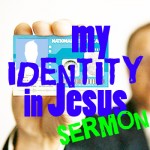 If basketball is your "life" and you think basketball is what you're all about. When I was a student I remember seeing shirts in Walmart that said "Basketball is life. The rest is just details." If basketball is what you're all about then suddenly you shape yourself around it. You shoot hoops with friends and play games every saturday. You join the school basketball team. You watch your favorite team play every game. You join at least one fantasy basketball league. You collect basketball cards. You begin to dream about playing in the NBA.

"My Identity in Jesus" by Jason Pensa Sermon to Church September 21, 2014




I am adopted: I am a Child of God. I have family love. I am loved: I am Jesus' friend. I am accepted. I am redeemed: I have been forgiven. I am a member: I am a citizen of Heaven. I am a saint. I belong.I am secure: I am hidden in Jesus. I am sealed. I am complete: I have been united with Jesus. I am free: I can find grace in time of need. I have not been given a spirit of fear but instead one of power, love and self-discipline.