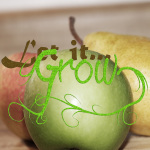 I don't know about you but sometimes the Christian life can seem like a long list of "do's and dont's". It really shouldn't feel like that. I think it's because we forget life isn't all work, it isn't something you can manufacture, something you can force or something you can make happen. I think the things that should characterize our life are more natural and organic than many of us would like. I think we often forget that to grow something naturally requires hard work it also requires tons of patience and the right conditions for that growth to happen. We can't force growth to happen.
Now the works of the flesh are evident: sexual immorality, impurity, sensuality, idolatry, sorcery, enmity, strife, jealousy, fits of anger, rivalries, dissensions, divisions, envy, drunkenness, orgies, and things like these. I warn you, as I warned you before, that those who do such things will not inherit the kingdom of God. But the fruit of the Spirit is love, joy, peace, patience, kindness, goodness, faithfulness, gentleness, self-control; against such things there is no law. And those who belong to Christ Jesus have crucified the flesh with its passions and desires. If we live by the Spirit, let us also keep in step with the Spirit. (Galatians 5:19–25)
Notice that what Paul says contrasts the "works of the flesh" versus the "fruit of the Spirit". I wonder why Paul didn't simply use the same word for both concepts. Isn't he simply contrasting the results of living in our own flesh as opposed to walking in step with God's Spirit? Why not contrast by using the same word works or fruit instead of two different words? Well, I looked up the two terms and what I found was quite amazing.
The idea behind the term Paul uses for "works" in Gal. 5:19 indicates a result from work. The term work is like a deed, task, similar labor, or a job or workmanship. The idea seems to indicate that it's the result of one's labor or work, like a craftsman or artist who creates something with his/her own hands. It's the same word Jesus uses when he says to the Jews, "I have shown you many good works from the Father; for which of them are you going to stone me?" (John 10:32) You see Jesus was saying, "You've seen my Father's handiwork. The result of His work and His labors have resulted in many good things I've shown you, so which of these works are you condemning me or stoning me for?"
The idea behind the term Paul uses for "fruit" in Gal. 5:22 indicates something that grows or is harvested. The term is more organic and natural. It's a crop produced by plants or trees. The idea is similar to what Jesus uses when He says, "You will recognize them by their fruits… So, every healthy tree bears good fruit, but the diseased tree bears bad fruit." (Matt. 7:16-17) Could it be that our labors and efforts dependent on our flesh always result in death and deeds contrary to what God wants? Is it because our own flesh is steeped in sin that actions done of our own selves can only result in what is detestable and wrong? Is it like the prophet Isaiah writes, "All of us have become like one who is unclean, and all our righteous acts are like filthy rags…" (Is 64:6)
But I say, walk by the Spirit, and you will not gratify the desires of the flesh. For the desires of the flesh are against the Spirit, and the desires of the Spirit are against the flesh, for these are opposed to each other, to keep you from doing the things you want to do. But if you are led by the Spirit, you are not under the law.
(Gal. 5:16–18)
You see, maybe in order to do the Lord's work, to produce the fruit of the Spirit, we must stop trying in our own strength. We must make the conditions right for growth. Is it possible that in order to see God grow what He desires for us to produce we must let it go and stay out of His way? Perhaps we simply water our lives, make sure we bask in the light of the Son and let the Spirit do His gardening, tending to us like a tree which is to produce fruit for the Master. We so often want to pull ourselves up by our own bootstraps and force things to happen that we labor endlessly, attempting to build, make, labor, or create something that can only be grown. I think the fruit of the Spirit isn't something we can produce in our own lives because it's something that only the Holy Spirit can grow in our lives. Whatever you're doing right now, maybe just stop for a moment and stop trying to be more holy and just ask God the Father to send the Holy Spirit into your life to grow the fruit that will please the Father. Take some time to make sure the conditions of your life are right to help that fruit grow. All that reading of the Bible, all that praying, all that Church going isn't the end goal. Those aren't things that exist on a checklist that somehow pleases God. Those are simply things that help you grow because they provide better conditions to help the Spirit grow the sorts of things that please God – like love, joy, peace, patience, kindness, goodness, faithfulness, gentleness and self-control.