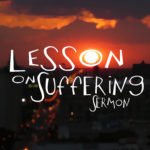 "To the angel of the church in Smyrna write: 'The words of the first and the last, who died and came to life. 'I know your tribulation and your poverty (but you are rich) and the slander of those who say that they are Jews and are not, but are a synagogue of Satan. Do not fear what you are about to suffer. Behold, the devil is about to throw some of you into prison, that you may be tested, and for ten days you will have tribulation. Be faithful unto death, and I will give you the crown of life. He who has an ear, let him hear what the Spirit says to the churches. The one who conquers will not be hurt by the second death.'"
(Revelations 2:8–11)




While suffering might be the very thing we need to help us grow we must understand that even in the middle of it that it is the thing that when we are faithful in the midst of it, is producing a crown of glory. God promises that my suffering is somehow producing life that I don't understand. Yet in the middle of that raw anguish, the unbearable pain, the unending tears, the broken relationships, the injustice of sin seemingly unpunished and the triumph of evil in that moment can seem just too much to bear, too much to understand and too much to be faithful in the midst of it. So I do not want to be insensitive nor do I want to pretend that being faithful is something that is or should be easy. Being faithful in the midst of suffering is hard. But make no mistake, that with every step the key to choosing to be faithful over being fearful is simply to hold tighter to the hand of God. Because He is the one who has suffered like you do and He cares about your every tear.