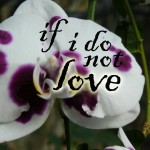 So often we talk about the things or people we love. You'll hear people say that they love their country. You'll hear people say that they love a steak, a beer, or a pizza. I'm sure you catch yourself saying some of these very things. You'll hear parents tell their children that they love them. You'll hear lovers talk about loving each other in deep and profound ways I'm not sure they really even grasp. Then you'll hear preachers talk about love and how God loves us. But what is love?
I wonder if as Christians we would be happier, more joyful and more at peace if we understood what love really is. We're told that God is love. We're told that we're supposed to love one another as Christ loved us. If you're like me, you might be asking, does that mean I should die on a cross like He did? How do I love my neighbor as I love myself when I don't even know my neighbor? Sometimes, in our overly practical mindset today, I wonder, are we so lost in the out-workings of these teachings from Scripture that we've lost the concepts and principles that are supposed to be guiding our well-intended behaviors? If I understood the concepts and principles deep down in my soul, might the out-workings just come as a natural outpouring and overflowing into my day-to-day life?
What is love? My favorite author, C.S. Lewis wrote a book on the "four loves". Our Christian bookstores are full of books on Romance and love. Lots of people today are into the ideas of love and peace as a socio-political concept. There are tons of adds online for websites where you can find "love". In a sea of thoughts on love, I think the most helpful explanation is the Apostle Paul's words as he expounds on the idea of love in his letter to the Corinthians and describes attributes of what love really is.
"Love is patient, love is kind. It does not envy, it does not boast, it is not proud. It is not rude, it is not self-seeking, it is not easily angered, it keeps no record of wrongs. Love does not delight in evil but rejoices with the truth. It always protects, always trusts, always hopes, always perseveres." (1 Corinthians 13:4-7)
Love is patient. I am rarely patient. Love is kind, I'm kind, except with other drivers. Love does not envy. If I am not careful, I can be envious. Love does not boast and is not proud. I can be prideful, and even to say that I am not would be boastful. Love is not rude. I can be rude if I'm in a bad mood. Love is not self seeking. Yikes, I am very self seeking. Love is not easily angered. I get angry at people quite a bit. Love keeps no record of wrongs. I keep a record of wrongs for certain people. Love does not delight evil. Sometimes, I delight in evil. Love rejoices with the truth. I tend to begrudgingly give into the truth. Love always protects, always trusts, always hopes and always perseveres. I'm better at those things, but always? I guess I'm a failure there too.
Prior to those words, Paul states that even if he prophecies or gives up all his possessions or sacrifices himself to die a horrible death and yet does not have love, he is nothing. In looking at what love is and what it does, man, I find that I tend to fail at most accounts. Therefore, according to the God, I am nothing. Jesus is the ultimate example of someone who spoke truth (prophecies), who gave up all His rights and possessions and died the most horrific death imaginable. He had love for His enemies while doing all these things. He is everything. I have not always spoke the truth of God, I give up very little for others and have never tasted death for others. So often, I lack love. I am nothing.
Jesus, help me today to be more loving towards others. Fill me with love. Help the motivation of my heart to be loving towards strangers, towards my family, towards my friends, towards my enemies. Jesus you are love. Fill me with Yourself. I want to have love for others. I want to love You, Jesus. I admit that I am a failure, that I am self-seeking, that I do not possess the love that You have and demonstrated for me. Help me to understand with my head and my heart Your love for me. Help me to really be loving towards all the people you have put into my life.