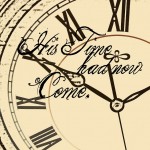 "Concerning this salvation, the prophets, who spoke of the grace that was to come to you, searched intently and with the greatest care, trying to find out the time and circumstances to which the Spirit of Christ in them was pointing when he predicted the sufferings of Christ and the glories that would follow."
Promises had been given. The words of Prophecy had been spoken. The words of prophecy had been written down for us. Even to the first woman ever made, the promise of a Messiah was given, a hint that would not be understood until much later.
But His time had not come.
To a man who would father of God's chosen people, the man whom God decided to bless received a promise that the blessing from the Promised One would flow from his blood line. From his own son, one day the Redeemer would come.
But His time had not come.
In a far away land, a man God Himself considered to be righteous suffered greatly. This man sounded a chorus that would be sung thousands and thousands of years later, "I know that my Redeemer lives."
But His time had not come.
A king was appointed who was said to be after His own heart. The king wrote praises to Him. The promise was given that it would be from his bloodline that the Messiah would come.
But His time had not yet come.
His chosen people turned away. He sent prophets and hardships, trying to turn their hearts back to Him. He made more promises of the coming Messiah. They were scattered over many countries, and came under the rule of the Romans. They were mistreated and ordered around. They were not free.
But His time had not yet come.
It was getting dark as dusk settled over the whole land. An exceptionally great star grew bright in the east. A king from a distant land noticed it…and remembered an old prophecy.
His time had now come.
A girl to be married was given the promise of a child. With risk of rejection, she raised her courage to tell the man to whom she was betrothed to be married. "The angel went to her and said, 'Greetings, you who are highly favored! The Lord is with you….Do not be afraid, you have found favor with God. You will conceive and give birth to a son, and you are to call him Jesus.'"
His time had now come.
A census throughout the land. All were required to return to their home town. The promise was for Him to be born in Bethlehem. The long journey for this girl was toilsome, despite the roads the Romans had built. After many days, all she wanted was a place to rest her head and await the promised arrival. A humble stable, a lowly manger full of hay, was all that could be found. "And she brought forth her firstborn Son, and wrapped Him in swaddling cloths, and laid Him in a manger, because there was no room for them in the inn."
His time had now come.
In a field out in the distance, shepherds were tending to their watchful task. An angel of the Lord appeared to them, and the glory of the Lord shone around them, and they were terrified. But the angel said to them, "Do not be afraid. I bring you good news that will cause great joy for all people. Today in the town of David a Savior has been born to you; he is the Messiah, the Lord….Glory to God in the highest heaven, and on earth peace to those on whom his favor rests." His coming rang out among the people. The shepherds spread the news "concerning what had been told them about this child"
His time had now come.
An old man sat at the Temple awaiting the coming of the Messiah. He had been promised that the long foretold prophecies would come through before he died. Can you imagine his joy and happiness when he realized that the day had finally come? "Sovereign Lord, as you have promised, you may now dismiss your servant in peace. For my eyes have seen your salvation, which you have prepared in the sight of all nations: a light for revelation to the Gentiles, and the glory of your people Israel."
His time had finally now come.
A woman was at the temple day and night, fasting and praying. She too was waiting and anticipating the Messiah's arrival. "Coming up to them at that very moment, she gave thanks to God and spoke about the child to all who were looking forward to the redemption of Jerusalem."
His time had finally now come.
"It was revealed to them that they were not serving themselves but you, when they spoke of the things that have now been told you by those who have preached the gospel to you by the Holy Spirit sent from heaven. Even angels long to look into these things."
"These are written so that you may believe that Jesus is the Messiah, the Son of God, and that by believing in Him you will have life."