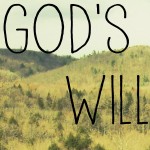 I desire to do your will… Teach me to do your will, for you are my God; may your good Spirit lead me on level ground. Psalm 40:8; 143:10
So many Christians in our day and age wonder what God's will is for their lives. When we read Jeremiah 29:11, we wonder what plans God has for our lives. Sadly, we've somehow been lead to believe that we must grope about in the darkness for this secret plan God must be hiding from us, since we don't know what it is. The first problem with this subconscious view on our lives is that if God had a specific plan for us, why would He hide it from us? If He truly loves us, which I do believe—would He hide His plan for our good from us, if we needed to know it to somehow follow it?? If there is something God wants you or me to know that is specific for us to live our lives, He will let us know—believe me He can get through to you and me if He needs to—and He doesn't need your cell phone number. Just look at Moses or Jeremiah if God has something specific He wants you to do, He'll come to you—even if He has to use a burning bush to get your attention. But don't keep watching your bushes to see if they'll start spontaneously combusting. Read His word He's given you. I'll bet you've got at least one copy—probably more-in several different versions. The Bible is on the internet—there's apps on your phone that have the Bible in various languages and various translations and I've got Bible software on my computer that helps me study it even better.
So wait… if I've been lead to believe that God's will is something it's not, then ummmm… what is God's will?? Good question and all the more should be asked when examining passages such as the following:
Therefore do not be foolish, but understand what the Lord's will is.
Ephesians 5:17
For this reason, since the day we heard about you, we have not stopped praying for you and asking God to fill you with the knowledge of his will through all spiritual wisdom and understanding.
Colossians 1:9
Not everyone who says to me, 'Lord, Lord,' will enter the kingdom of heaven, but only he who does the will of my Father who is in heaven.
Matthew 7:21
For I have not hesitated to proclaim to you the whole will of God.
Acts 20:27
What's this?? We're commanded to understand what God's will is. We're commanded that we should be able to do God's will???! So what is God's will?? Well I believe that God's will has different parts to it. First there is a part of God's will that is most important—in fact without understanding and doing this part of God's will—no one will enter heaven.
For my Father's will is that everyone who looks to the Son and believes in him shall have eternal life, and I will raise him up at the last day."
John 6:40
So then—the most important part of God's will is our salvation—it's so important that we understand our salvation—that we choose to believe in God's payment of a debt that we incurred and could never pay. He Himself came down to pay this debt of ours—out of His own will—and He didn't have to. But He chose to. You must understand this part of God's will—even if you've already accepted it, read God's Word to understand it more. But there are other parts to His will. For instance there are other secondary things to salvation that we should understand.
Finally, brothers, we instructed you how to live in order to please God, as in fact you are living. Now we ask you and urge you in the Lord Jesus to do this more and more. For you know what instructions we gave you by the authority of the Lord Jesus. It is God's will that you should be sanctified: that you should avoid sexual immorality; that each of you should learn to control his own body in a way that is holy and honorable, not in passionate lust like the heathen, who do not know God;
1 Thessalonians 4:1-5
Be joyful always; pray continually; give thanks in all circumstances, for this is God's will for you in Christ Jesus.
1 Thessalonians 5:16-18
This is the confidence we have in approaching God: that if we ask anything according to his will, he hears us. And if we know that he hears us—whatever we ask—we know that we have what we asked of him.
1 John 5:14-15
It is better, if it is God's will, to suffer for doing good than for doing evil.
1 Peter 3:17
So then, those who suffer according to God's will should commit themselves to their faithful Creator and continue to do good.
1 Peter 4:19
There is another part of God's will—a part that neither we nor any other human truly understand—a part that deals with His sovereign will. Sometimes as we make plans for our lives and live day by day we find that certain things that happen that are unplanned by us—things happen that we don't understand. We must submit ourselves to the sovereign hand of God. Sometimes He has different plans for us then we have for ourselves and He doesn't inform us of them. Sometimes it's to test us or to teach us something. Maybe it's just because His ways are higher then ours. But the thing is as we go about making plans for our lives we must realize that sometimes our plans will not come about—sometimes they will. We should be extremely joyful when the hand of providence steps in and changes things—because the closer we draw to God—I believe the more He tends to step in and change things as He grows us and changes us. If He just lets our lives run the normal course like perhaps we'd like—then what significance would that be?? Wouldn't you rather be dealing with what God wants you to be dealing with then just doing what you think you should be doing??
Now listen, you who say, "Today or tomorrow we will go to this or that city, spend a year there, carry on business and make money." Why, you do not even know what will happen tomorrow. What is your life? You are a mist that appears for a little while and then vanishes. Instead, you ought to say, "If it is the Lord's will, we will live and do this or that." As it is, you boast and brag. All such boasting is evil.
James 4:13-16
The great thing is if we begin to live more God would have us live—we can begin to understand what God's will is—the part that is more mysterious—as we draw closer to God and conform our lives to the way He would have us live—we begin to truly understand where God is working—and are more discerning as to what we should be investing our lives in—how we should be spending our time.
Therefore, I urge you, brothers, in view of God's mercy, to offer your bodies as living sacrifices, holy and pleasing to God—this is your spiritual act of worship. Do not conform any longer to the pattern of this world, but be transformed by the renewing of your mind. Then you will be able to test and approve what God's will is—his good, pleasing and perfect will.
Romans 12:1-2
Well, just so you know this has been the result of my fascinating Bible study of God's Word has to say about God's Will. I did not use all the verses that I found about God's Will and in all likelihood, I did not find all passages or verses and mention about God's Will—but what I found was so eye opening to me. While I keep reading God's Word—I will continually keep my eyes open for what God might have to say about what closest to His heart—and what He would have us do. What His will is.
Epaphras, who is one of you and a servant of Christ Jesus, sends greetings. He is always wrestling in prayer for you, that you may stand firm in all the will of God, mature and fully assured.
Colossians 4:12
"Yet not as I will, but as you will." Matthew 26:39