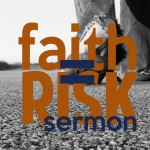 We are addicted to sight. We are addicted to needing to know. We are addicted to control. Some of you plan way in advance. Some of you do tons of research before you even think about buying something. You might get nervous before you travel. You worry that something might not go according to plan. I don't think a single one of you wants to live a boring life. I don't think a single one of us wants to sign up for something "average" or even "conventional". I personally am excited by the prospect that God wants to take me to someplace new and exciting into the unknown.

"Risk = Faith" by Jason Pensa Sermon to Church June 15, 2014




Jesus encountered a rich young ruler who wouldn't sacrifice his possessions for Jesus. One man turned away when he found Jesus was homeless. Jesus encountered a man who wouldn't follow Him until he had fulfilled all his familial duties. One man was far too attached to this world to leave it behind to follow Jesus. Will you and I be like the disciples who gave up all for Jesus or will we find that we are more like these people? People hoping to follow Jesus on our terms and conditions? Do we want to maintain control? What are you and I willing to risk for the Savior? What are you willing to give up for Him who gave it all up for you? What risk will you take for Him who risked it all for you?