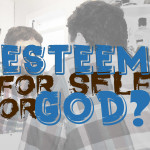 So there's this event record in the Gospels where Jesus takes Peter, James and John up on the mountain side for a week where they see Jesus transformed into His glorified-heavenly body (which we call the "transfiguration"). Then they get to hang out with Moses and Elijah. For a whole week this core of disciples gets to be with and worship Jesus. But Jesus had twelve disciples. What did the other nine disciples do while Jesus, James, Peter and John went on a week long spiritual retreat in the mountains? I wonder if they got a little jealous. I can't help but imagine the sorts of conversations they had later on. I wonder if Peter might have gotten a little prideful.
It's little wonder that one chapter later we read the following…the disciples came to Jesus, saying, "Who is the greatest in the kingdom of heaven?" (Matt. 18:1) Is it any surprise that the disciples are asking "Who is the greatest?" Some of the disciples got to hang out with Jesus along with a couple of the all-stars of the faith while the other disciples did not. So what does Jesus say?
The disciples came to Jesus, saying, "Who is the greatest in the kingdom of heaven?" And calling to him a child, he put him in the midst of them and said, "Truly, I say to you, unless you turn and become like children, you will never enter the kingdom of heaven. Whoever humbles himself like this child is the greatest in the kingdom of heaven." (Matt. 18:2-4)
We must become like children. What are children like? Well several things come to mind. They are trusting. They'll believe whatever they're told. Children don't doubt what they're told by an adult. Yet how often do we doubt what God tells us? Children are pure at heart. They're innocent. Children don't worry about what other people think. They aren't concerned about the opinions of others. You see children were low on the social ladder in Jesus' time. It's strange that even after Jesus tells the disciples they must become like children that they still refuse to let the children come to Jesus. (see Matt. 19:13-15) Even though they're the lowest in the social order Jesus says not only must the disciples become like children but whoever wants to be great must humble himself to be like a child. We are all equal before God.
It is the Lord who judges me. Therefore do not pronounce judgment before the time, before the Lord comes, who will bring to light the things now hidden in darkness and will disclose the purposes of the heart. Then each one will receive his commendation from God. (1 Cor. 4:4-5)
I wonder if some of the disciples felt miserable and unloved after spending a week apart from Jesus. It's so easy to let your self-worth be based on how you esteem yourself. When we self value and esteem our worth of who we are based on what we think we have the tendency to either think too highly of ourselves or too little of ourselves. It's not what I say is true about myself. The idea behind the word "esteem" is one of respect and admiration. To me the phrase "self esteem" is not only ridiculous but erroneous. Does the Bible teach that I should have admiration for myself?
For by the grace given to me I say to everyone among you not to think of himself more highly than he ought to think, but to think with sober judgment, each according to the measure of faith that God has assigned. (Rom. 12:3)
When we fill our selves with our own thoughts about ourselves we don't have room to be filled with what God says is true about us. The Bible constantly and consistently teaches us to have focus on worshiping and admiring God not ourselves. The Scripture is teaching us to have "God esteem". (see 1 Chron. 16:23-31; Ex. 20:2-6; Psalm 29 & 99; Rom 12:1-2; Rev. 4:8-11) To have "God esteem" is to worship, adore, admire, respect and praise God. I believe that our worth and value comes from God. When we focus on esteeming, respecting and admiring Him we will find our rightful place. When we find our rightful place we find that He knows us better than we know ourselves. He can judge us better than we can judge ourselves. He is the only one with whom we are known, remembered, recognized by the only One who gives the most accurate and perfect judgement. What He says about me is far more accurate than what I could say about myself. More than that we find that there is no one who loves us more than God. He loves us more than we could ever love ourselves. You see having esteem for God is far better than having esteem for self and that brings true humility.