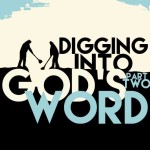 When studying the Bible, it's really easy to crack open a commentary to get the explanation of what a passage means or how it applies to our lives. However, when you're digging into God's Word you will get so much more out of it if you do the studying for yourself. Instead of turning to a commentary or a devotional, the best way to interpret the Bible is to use other Scripture. So the first tool I recommend when it comes to diving into a passage is the cross-reference tool. If you don't have a Bible with a built-in cross reference, I recommend you get one. Let's take a look at a passage that surrounds a well-known verse.
Truly, truly, I say to you, we speak of what we know, and bear witness to what we have seen, but you do not receive our testimony. If I have told you earthly things and you do not believe, how can you believe if I tell you heavenly things? No one has ascended into heaven except he who descended from heaven, the Son of Man. And as Moses lifted up the serpent in the wilderness, so must the Son of Man be lifted up, that whoever believes in him may have eternal life. (John 3:11–15)
Jesus is explaining about bearing witness (testimony) to what is seen or heard. The cross-reference points us to verse thirty-two of the same chapter, "He bears witness to what he has seen and heard, yet no one receives his testimony." (Jn 3:32) Jesus is bearing witness to God. His testimony is about Himself. A few chapters later we read: Jesus answered, "Even if I do bear witness about myself, my testimony is true…" (Jn 8:14) It's something Jesus talks about a lot — the evidence that He is who He says He is. His ministry on earth was to bear witness to His identity (Matt. 16:13-16; Matt. 11:2-5; Luke 22:67). Right before the most well known Bible verse in the whole Bible (Jn. 3:16) we read about Moses lifting up a serpent in the wilderness and while the verse sixteen might be the best explanation of salvation but it's fifteen that one might consider the best illustration of salvation. In order to understand what Jesus is referring to let's turn to the book of Numbers.
The people came to Moses and said, "We have sinned, for we have spoken against the LORD and against you. Pray to the LORD, that he take away the serpents from us." So Moses prayed for the people. 8 And the LORD said to Moses, "Make a fiery serpent and set it on a pole, and everyone who is bitten, when he sees it, shall live." 9 So Moses made a bronze serpent and set it on a pole. And if a serpent bit anyone, he would look at the bronze serpent and live. (Num. 21:7–9)
You see, before Jesus can state that God loves the people of the world so much that Jesus came to save them from their sins, He first likens Himself to the bronze serpent that Moses lifted up. If anyone even just looked to the serpent, he would live. We must look to Jesus for our salvation. We must look to Jesus for our healing. We must look to Jesus for our redemption.
"For God so loved the world, that he gave his only Son, that whoever believes in him should not perish but have eternal life. For God did not send his Son into the world to condemn the world, but in order that the world might be saved through him. Whoever believes in him is not condemned, but whoever does not believe is condemned already, because he has not believed in the name of the only Son of God. And this is the judgment: the light has come into the world, and people loved the darkness rather than the light because their works were evil." (John 3:16-29)
We must believe in Jesus. Like the Israelites looked to the serpent, we must look to Jesus. We must believe in Jesus. We must abide in Jesus. We're led again to another passage in John: "Abide in me, and I in you. As the branch cannot bear fruit by itself, unless it abides in the vine, neither can you, unless you abide in me." (Jn. 15:4) Our belief cannot exist in isolation. Our faith cannot exist outside of Jesus. It is not our belief in the idea of our Savior but in the actual flesh-and-blood Christ. (Jn 12:47–48) God so loved the world that He gave His one and only Son and we know that "God shows his love for us in that while we were still sinners, Christ died for us." (Ro 5:8) and that "In this the love of God was made manifest among us, that God sent his only Son into the world, so that we might live through him. In this is love, not that we have loved God but that he loved us and sent his Son to be the propitiation for our sins." (1 Jn 4:9–10)
The Bible itself is the best source to interpret, to explain, and to expound on the Bible.