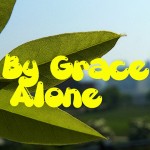 It amazes me to listen to Christians try to explain what it means to be a Christian or how to become one.  The wording that we as Christians use to explain how to become a Christian has increasingly become misunderstood to the outside world.
Think about the phrases we use.  "Ask Jesus into your heart"  "Become born again."  "Trust Jesus with your soul."  "Just believe."  These things become "Christianise" to the world.  Here's the thing.  There's not a specific terminology.  There's not a special wording you need when you pray.  There's no secret or magic based on what you say when you pray or exact wording to use when you ask for grace.  God is more interested with what is in your heart then how many "hail Mary"s you can say and He cares more about what you do than whether or not you can recite the Lord's Prayer.
…It does not, therefore, depend on human desire or effort, but on God's mercy. (Romans 9:16)
See I think we quickly forget just how free Grace really is.  Grace is free.  There is nothing you can do to earn it.  There is nothing you can do to secure it.  There is nothing you say that will change God's mind about it.  There's no amount of words that you can say that will make the quality of that grace better.  There's no amount of works you can do that will make the quantity of that grace go up.  You can't buy grace and you can't sell it.  You can't hold it hostage and demand something for it.  You can't blackmail someone with grace.  You can't steal grace and you can never lose it.
"…I have been crucified with Christ and I no longer live, but Christ lives in me. The life I now live in the body, I live by faith in the Son of God, who loved me and gave himself for me. I do not set aside the grace of God, for if righteousness could be gained through the law, Christ died for nothing!" (Galatians 2:20–21)
Grace is free.  By definition it is free.  Salvation is by grace alone and therefore salvation is entirely free.  We might not live in a day and age where Christians are telling us what we must do to earn salvation or even to secure it's ongoing presence.  But sometimes, I think with all our talk about sanctification and or various other aspects of Christian living that we can forget that grace is free and there is NOTHING you can do to get it, earn it or keep it.
For it is by grace you have been saved, through faith—and this is not from yourselves, it is the gift of God—not by works, so that no one can boast. (Ephesians 2:8–9)
You just have to believe that Jesus paid for your sins.  You have to trust Jesus.  That's the whole point of trust.  I can't do it, God, you must do it.  I can't secure my salvation, I'm trusting Jesus to cover my sins.  I'm hoping in His righteousness to be credited to me.  There is nothing I can do.  My only hope is in Jesus.  There is NOTHING I can do.  I am but a ragged, wretched sinner.  I am like the thief on the cross.  He asked Jesus to remember him.  Jesus told him, "Today, you will be with me in paradise."  That thief could not have been baptized.  That thief could not have had the Lord's supper.  That thief could not join a Church.  That thief could not have read his Bible.  He–like Abraham–believed, and it was credited to him as righteousness.  But again, not because of what the thief said or did but ONLY because of Jesus.